Born in Vienna
Studies at the University of Applied Art in Vienna
2020
Exposition
"Journey to the Sun States I & II"
ARTROOM
Löwengasse 25
1030 Wien
mo - fr 10h - 12h und 14h bis 17h
bis 31. August 2020
SALON du DESSIN PARIS
Dessin Florin March 25th TO 30th 2020 ***postponed 2021

2019
"grande pittura" r. renzuli /zattere/venezia /exhibiton prive
2018
Entwicklung von fortedesignvienna label / limited collection
2017
"HERO'S" personale bei luise buismann /galerie am park / wien
2016
"HOMMAGE AN SERENA LEDERER"
kunstsammlerin großzügige kunstmäzenin von gustav klimt und egon schiele
stadtgalerie vöcklabruck/O.Ö.
2015
Kuratierung der exposition karl heinz koller ( capella )
photographie analogique et film / fondation de l'allemagne
maison heinrich heine cite nternationale universitaire de paris
2014
erstellung eines werkverzechnis von karl heinz koller
photographie film /video's books.
2013
Exposition de tableaux
E. Forte
de 13. Novembre - 2. Février 2013
J. & C. Doll
2012
Elfriede Forte
Venice Connection
Domino Arte, Venezia
2011
Pittura di Elfriede Forte
La Gondolina, Venezia
20. Settembre - 31. Ottobre 2011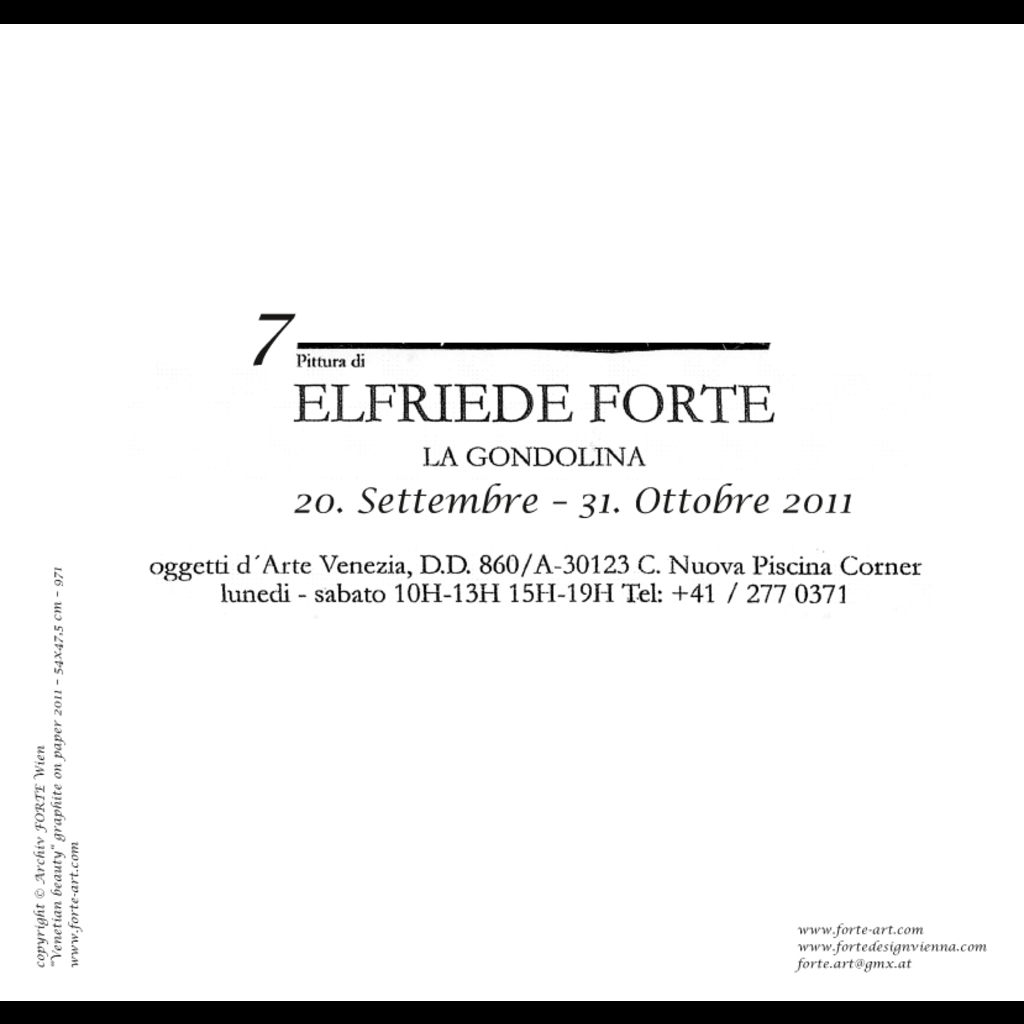 2010
J. Doll, exhibition privée, Paris

"Byzantine"
Galeria La Gondolina, Venezia
2009
"Taccuino delle ninfè"
La Gondolina, Venezia

"Langue figurée" - exposition des tableaux privés
Paris
2008
Linné - "Bilda för Linné"
Sternbauer Institute, Uppsala

"Emilie Flöge - Sendebericht an Emilie" - Werke und Skizzen
Villa Paulik, Seewalchen am Attersee
2007
"Schriftbilder für Jean Améry"
Maison Heinrich Heine, Cité Internationale Universitaire de Paris

"Bilderleben - Monumentale Portraits und Flugbilder über den Attersee"
Galerie Stadtsaal Vöcklabruck
2006
"Commedia dell' arte"
Galleria Arlekin, Venezia
2005
"Labyrinthe" - Wandgemälde
Joint Vienna Institute, Residenz Wien
2004
"Ink on Paper" - private exposition
Institute E. Sternbauer, Uppsala, Sweden
2003
Curature "Retrospective K.H. Koller"
Film, photography, and books
Austrian Cultural Forum, Embassy of Austria, Washington D.C.
2002
"Fields of Energy"
Austrian Cultural Forum, Embassy of Austria, Washington D.C.

"Les précieuses en Paris"
Exposition Vogel und Klein, Paris
2000
E. Sternbauer, Uppsala
1998
Renzulli, Venezia

Eisenstark, Tel Aviv
1997
Sternbauer, Uppsala

Van Egten, Amsterdam
1996
Eisenstark, Tel Aviv
1995
MAX WELZ Gallery, Vienna

Chiffren - Werke und Interieurstoffe
Palmenhaus Schönbrunn, Vienna
1991
Der Marquis von Keith
Theater Drachengasse, Vienna
1984
Personal exposition
"Leo", Mödling / Vienna

Personal exposition
Art Society, Washington, D.C.
1983/84
Exposition
Studio Übernatürlich, Vienna
1983
Peruanische Flugbilder
Theodor v. Hörmann Gallery, Imst
1982
Personal exposition
Theodor v. Hörmann Gallery, Imst
1981
Gegenstände - Werke und Objekte
Clubgalerie, Wiener Secession, Vienna
Peter Infeld
Haus der Kultur, Halbturn
2006
Einblicke - Werke aus der Kunstsammlung der österreichischen Nationalbank
European Central Bank, Frankfurt am Main

MAK
Wiener Secession
Künstlerhaus
Palais Lichtenstein
Fashion Drawing Publishing
Austria Textil
Down Town
Close Up
Standard


© Elfriede Forte, Vienna, 2010 - e-mail: forte.art@gmx.at